Yesterday's chicken was good, but nothing spectacular. Today I tried the recipe from a card I found by the fish department in my groccery store. It sounded interesting so I thought why not. Boy am I glad I did. Jeff and I made it for dinner tonight and I could not believe that we made it. I was very proud of us. Below is a picture of the meal and the recipe.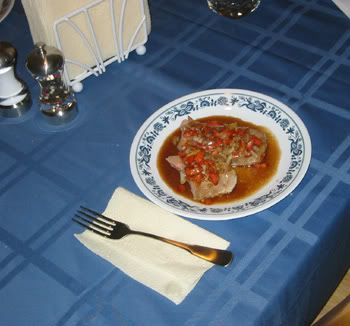 Balsamic Tuna
4 tuna steaks
2 plum tomatoes, diced
1 tbsp. olive oil
2 tbsp. orangle marmalade
1/2 sweet onion, diced
4 tbsp. balsamic vinegar
1 clove garlic, minced
1. Preheat the oven to 450 degrees F. Place steaks into a baking dish sprayed with nonstick cooking spray. Bake for 6 to 8 minutes or until fish flakes easily with a fork.
2. Meanwhile, heat oil in skillet over medium-high heat. Add onion and garlic and cook one minute. Add tomatoes. Stir in marmalade and vinegar.
3. Serve salsa over tuna. Serves 4.
To give credit where credit is due the card is from Try-Foods Intl, Inc.